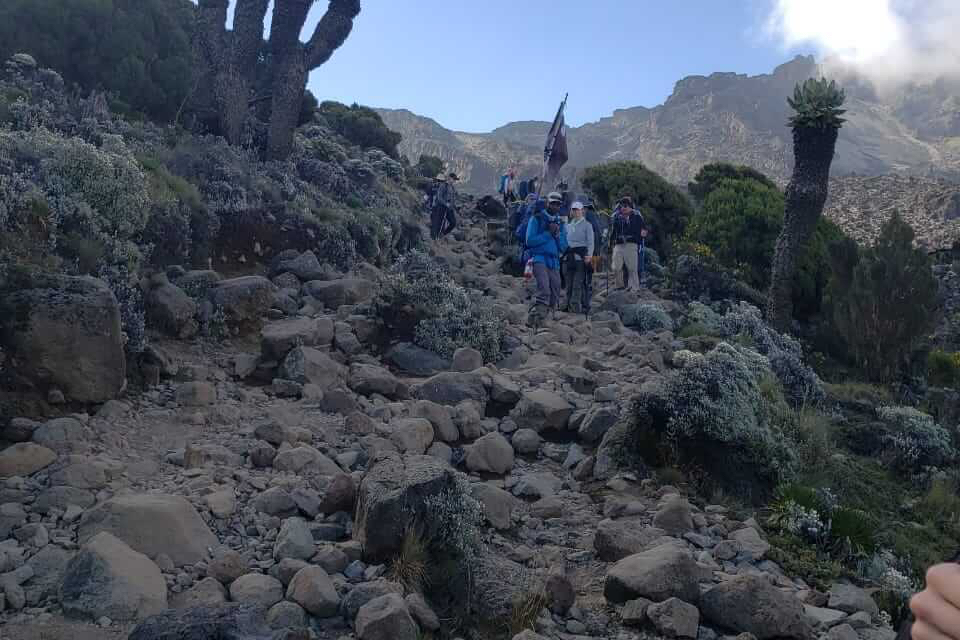 Quick Itinerary Overview
KILIMANJARO TREKKING 5 DAY MARANGU ROUTE.
Marangu is the most direct and shortest route to the peak of Kilimanjaro. Despite the briefness of the climb, an extra acclimatization day is recommended to allow for adjustment to the high altitude and increase the chance of success to reach Uhuru Peak. An added feature is that accommodation on this trail is in comfortable huts. Your path begins through tropical forests and strange moorlands, then takes you through the night on a challenging final ascent to see a spectacular dawn at the rooftop of KilI.
Distance Traveled: 70 km / 43.5 mi
Average walking time per day: 8 hours
Average ascent altitude change per day: 1000 m
3 Day safari to Lake Manyara National Park, Ngorongoro Cretar and Tarangire National Park.
Itinerary
Day 1: Begin ascent – Mandara Hut
Begin ascent – Mandara Hut
Enter through Marangu Gate in the morning and begin hiking through tropical forests where you will see tropical flowers and trees indigenous to Kilimanjaro. Sleep at Mandara Hut (2720 m), which is the home of the beautiful Blue Monkey, white & black Colubus Monkey, and also see the Crater of Maundi, just 50 meters away.
Day 2: Horombo Huts
Horombo Huts
Pass through beautiful tropical forests that become heath and moorland. Catch views of tropical birds such as the Malakite Sunbird and Alpine Chat that call this place home. Camp at Horombo Hut (3760 m).
Day 3: Kibo Huts
Kibo Huts
From Horombo Hut you will see breathtaking views of Kilimanjaro and Kibo Peak, and the jagged Mawenzi Peak. Traverse through moorland and get to the alpine desert, and beautiful view of Sado area to Kibo Hut (4730 m). Note: You may request to have an extra acclimatization day added to increase your chances of summiting.
Day 4: Ascent to Summit
Ascent to Summit
Rest at Kibo Hut and during the night begin the hike to the summit. It will take 6-7 hours to reach Uhuru Peak. Descend again to Kibo hut, have breakfast then start the descent to the lower altitude.
Day 5: Mandara Gate check out – to hotel
Mandara Gate check out – to hotel
Enjoy panoramas of Kilimanjaro from above the clouds back down to the tropical forests. Reach the Mandara Gate for checkout and then transport to hotel for rest and relaxation.
Day 6: Arusha – Lake Manyara
Arusha – Lake Manyara Depart early from Arusha town to reach Lake Manyara by mid-morning. Enjoy the beautiful sights and sounds of the lake and its animals. Before evening arrive at camp or hotel for overnighting.
Day 7: Ngorongoro Crater
Ngorongoro Crater Early morning enter into the caldera to search for a glimpse of the elusive black rhino. Have a relaxing lunch next to the hippos, and continue to see surprises along the crater floor, including elephants, wildebeest, buffalo, lions, and ostrich.
Day 8: Tarangire – return to Arusha
Tarangire – return to Arusha Along the Tarangire River, see the predator and prey relationships play out in the eternal chase of survival. Home to hundreds of elephants, Tarangire is the quintessential park for seeing these majestic animals. Return to Arusha town by evening.