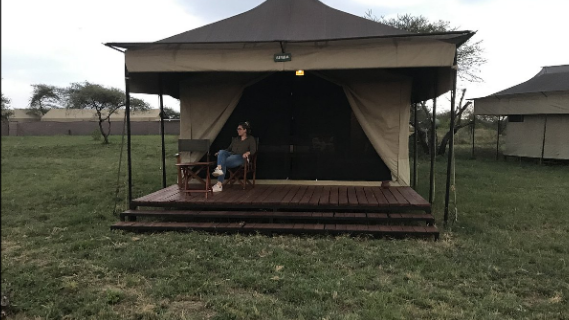 Overview
HIPPO TRAILS CAMP.
Hippo Trails Camp provides accommodation under canvas in large classic style tents with on demand hot water and flush toilets. The tents, elevated on wood platforms, are fashionably decorated with comfortable furnishings including a king size or twin beds, a writing desk, luggage racks and a sitting area with chairs and coffee table.
The location, quite near Retima Hippo pool, is a perfect launching point for wildlife viewing to most of the hotspots in northern and central Serengeti. Leave camp after breakfast with a picnic lunch and spend the day exploring, or get an early start and leave with breakfast, returning to camp for lunch and an afternoon siesta.
From the camp's site there are beautiful views down to the river. There is plenty of room to relax in the lounge tent, where you'll find complimentary wi-fi. Meals are served in the dining tent which also offers a full bar.
Our well-trained staff will look after your every need with a smile. Let us help make you feel at home in the bush!
Gallery
Accommodation
Facilities
Special Campsite located inside Serengeti National Park, 21 kilometres away from Seronera Airstrip next to Retima Picnic Site, on the slopes of Banagi Hill

10 Luxury Safari Tents on raised platforms

2 Luxury safari family tents on raised platforms

Lounge and dining tents with interconnecting veranda

24 hour solar power supply and hot showers

Private en-suite bathrooms and flushing toilet in all tents

Extended sitting area and veranda in all tents

Free wi-fi around lounge, dining and surrounding areas

Nightly campfire

Special dietary considerations

Coordinates: Latitude: -2.3058562 South, Longitude: 34.8334918 East
10 Luxury Safari Tents on raised platforms
2 Luxury safari family tents on raised platforms
Lounge and dining tents with interconnecting veranda
24 hour solar power supply and hot showers
Private en-suite bathrooms and flushing toilet in all tents
Free wi-fi around lounge, dining and surrounding areas
Nightly campfire