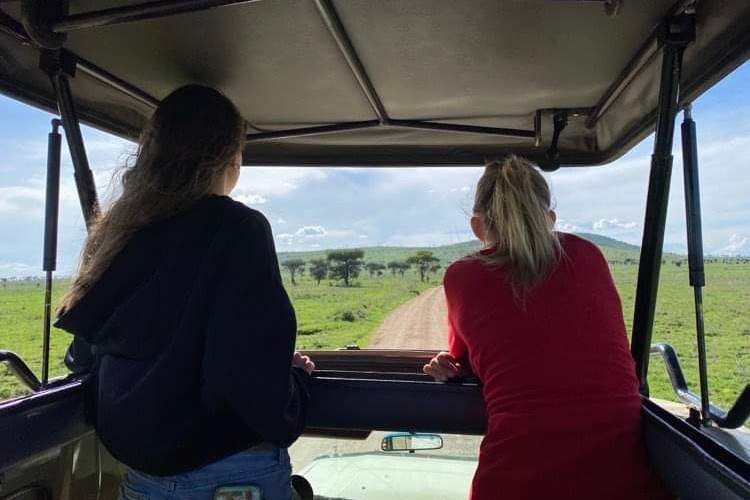 Quick Itinerary Overview
Family vacation tour, Unlimited African Safari packages. You tell us the places you dream to be and we tailor-make your safari plan every step of the way, connecting the dots to offer you an unforgettable safari experience. This14 days safari you will visit top most popular safari destinations Tanzania has to offer. Arusha National Park, Tarangire National Park, Lake Manyara National Park, Ngorongoro Crater, Serengeti National Park, Lake Eyasi/ bushmen, coffee farm, Masaai Boma and many many more.
Itinerary
Day 1: Arrive Kilimanjaro International Airport Arusha Tanzania
Your guide will meet you at Kilimanjaro International Airport via KLM or ET and escort you to Accommodations in Arusha. As local Tanzanians, our guides know the country with unrivaled familiarity , so you'll be in good hands from the moment you land to the moment you leave. You will be assisted to check-in at your hotel, and if possible followed with a short safari briefing or it can be done tomorrow early morning.
Overnight stay at:
Luxury accommodation. Mount Meru Hotel/Arusha Coffee Lodge Mid-range accommodation. Tulia Boutique Hotel/ Outpost Lodge
Day 2: Arusha National Park
Drive to Arusha National park. The topography of this small park is amazingly varied and includes grassy plains, montane forest, volcanic craters, swamps, and saline lakes. There are meadows with plains game and forest where you may see beautiful black and white colobus monkeys as well as Syke's monkeys. On clear days Kilimanjaro shimmers in the distance and Mt Meru presides over the park. There is a series of small lakes which are home to myriad species of birds. It's usual to see lots of giraffe and buffalo here and it's possible to take an exploratory hike on the mountain. This oftenoverlooked park is a great place to spend a day and acclimate to east Africa. Late evening proceeds to Karatu on the Ngorongoro Highlands. Overnight- Kudu Lodge- Karatu www.kudulodge.com Full Board (Dinner, Breakfast, Lunch)
Day 3: Tarangire National Park
The day will be spent visiting Tarangire National Park. Tarangire is famous for its elephants and in the dry season is home to huge herds of buffalo and significant numbers of zebra and wildebeest. There are long vistas and a baobab studded landscape which makes for a very different environment to the other parks. Red dust, palms and baobabs set the scene for glorious sunrise and sunset photos. At the dry time of year, the Tarangire River is the only source of water for miles around attracting herds of elephant, wildebeest and zebra. This park is a good place to site the illusive leopard and there are over 550 species of birds that breed here, the most in any habitat in the world. Late evening proceeds to Karatu on the Ngorongoro Highlands. Overnight- Kudu Lodge- Karatu www.kudulodge.com Full Board (Dinner, Breakfast, Lunch)
Day 4: Lake Manyara National Park
Today is the visit to Lake Manyara National Park. A visit to Lake Manyara will without doubt leave you with unforgettable feelings of natural wonders. This shimmering, flamingo full alkaline lake is located within the Great Rift Valley and is famous for its tree-climbing lions. It's the only place in the world where the lions really know that they are kings and reign from the tree tops. Nestled up against the wall of the Great Rift Valley, Lake Manyara National Park is famous for the bird life and elephant population. This lake which lays on the rift valleys floor and next to a dramatic escarpment,attracts flamingos and pelicans as well as other water fowl. There are several different species of hornbills in residence as well as kingfishers, the strange looking hammer kop and more. The park is also home to velvet monkey, olive baboon, giraffe, hippo, African buffalo, bushbuck, impala and a healthy population of lions among others. This exceptional and often overlooked park is a perfect place to spend a day. Late evening return to Kudu Lodge-Karatu. Overnight- Kudu Lodge- Karatu www.kudulodge.com Full Board (Dinner, Breakfast, Lunch)
Day 5: Ngorongoro/ Serengeti National Park
After breakfast, drive to Ngorongoro Crater and Venture down to the crater floor, or "The garden of Eden" viewing the high concentration of wildlife. The crater is the largest un broken caldera in the world, this 2000 feet deep and 264 sq mile natural amphitheater is the host to an astonishing array of wildlife, universally acclaimed to be one of the natural wonders of the world, the Ngorongoro crater inevitably invites the comparison with the garden of Eden. A world Heritage Site, the crater hosts almost every species found in the region except giraffe (they can't negotiate the steep incline down.) There is cheetah, hippo, plains species and a myriad of birds. Here is one of the few remaining places it's possible to encounter the highly endangered black rhino. It is also possible to see elephant (mostly lone or "bachelor" bulls, contented prides of lion, a resident herd of wildebeest, zebras. Etc .Early afternoon it's the journey to Ndutu areas. Enjoy the rugged landscape on the way while driving through the acacia-spotted savannah of the Ndutu plains. The "Big 5"constantly roams this vast expanse of grassland. The Ndutu Region forms part of the northern section of Ngorongoro Conservation Area and stretches to the unfenced southern reaches of the Serengeti National Park, a meeting point between these two incredible wilderness areas. This section of the park is made up of rolling grasslands peppered with alkaline lakes that attract flocks of flamingos, as well as acacia woodlands. There's year-round resident wildlife (such as giraffe, elephant, hyena and various antelope species) in the Ndutu Region, and you can spot animals around the waterholes during the dry season from June to November. Look out for the six cat species – lion, cheetah, leopard, serval, African wild cat and caracal – that are present throughout the year Overnight LAKE NDUTU LUXURY CAMP www.tnshospitality.co.tz Full Board (Dinner, Breakfast, Lunch)
Day 6/7 & 8: Serengeti National Park
After breakfast is the journey to Serengeti National Park. These three day are set apart for you to explore Serengeti national Park. Each day after an early breakfast you will drive to another part of Serengeti national park, to explore the vast reaches of this park where the big cats: lions, leopards and cheetahs abounds. After the short rains, the Serengeti's magical golden horizon transforms into an endless green carpet, flecked with wildflowers. The famous plains are interspersed with wooded hills, towering termite mounds and monumental rock kopjes and rivers lined with elegant acacia trees. The vast Serengeti is one of the most stunning wildlife sanctuaries on the planet. The name comes from the Maasai "Siringet" referring to endless plains. This vast savannah hosts the world's largest surviving concentration of plains game. In addition to the short grass plains there are beautiful rocky out-cropping called kopjes (pronounced copies) and thousands of acres of bush and acacia woodland. The Seronera area has permanent water and therefore is an excellent area to spot the big cats and elephant in the dry season. This is home to the "Great Migration" where millions of antelopes andzebras traverse an area of 14,764 sq kilometers (5,700 sq miles) ranging from the Masai Mara in Kenya in the northeast, almost to the shores of Lake Victoria in the west and down to the rim of the Ngorongoro Crater in the south. The three Days in Serengeti will undoubtedly leave you with feelings of untamed Africa at its best. Overnight ACACIA SERONERA LUXURY CAMP www.serengetiacaciacamps.com Full Board (Dinner, Breakfast, Lunch)
Day 9: Ngorongoro/ Olduvai Gorge
After breakfast, drive back to Ngorongoro conservation Area passing through the archeological site of Olduvai Gorge. Olduvai, more accurately called Oldupai after the wild sisal in the area, is the site of some of the most important finds of early hominid fossils of all time (made famous by the work of the Leakey family) - The "Nutcracker Man" or Australophithecus boisei who lived 1.8 million years ago. There is a small informative museum located at the visitor centre. The gorge is a treasure trove of archeological sites filled with fossils, settlement remains and stone artifacts. Late afternoon proceed to Kudu Lodge-Karatu. Overnight- Kudu Lodge- Karatu www.kudulodge.com Full Board (Dinner, Breakfast, Lunch)
Day 10: Watindiga experience/ Lake Eyasi
An early Morning drive to the heart of the Rift Valley and shores of Lake Eyasi. Lake Eyasi is the Home to the Wadza and Watindiga bushmen some of the last remaining huntersgatherers on the continent. They live in groups hunting with bows and arrows and gathering roots, tubers and wild fruits. The Hadzabe Bushmen are believed to have lived in the area for nearly10,000 years. Watch as they track and hunt Animals with bows and arrows. Late afternoon return to Kudu Lodge Overnight- Kudu Lodge- Karatu www.kudulodge.com Full Board (Dinner, Breakfast, Lunch)
Day 11: Coffee Estate Tour- Shagrila Estate
After breakfast you will be taken to Shangri-La Estate for coffee tour. Shangri-La Estate is located only 5 minutes from the main road leading to the Ngorongoro crater entrance gate. Have a short walk through the farm and get to know the origin of premium Kifaru Coffee. The farm area on the edge of Ngorongoro Crater covers an area of 600 hectares and is as diverse as the nature that surrounds it. An unforgettable experience in a unique landscape with coffee trees lined up in the fields, protected by umbrella acacias from too much sun, and bordering directly to the Ngorongoro. Depending on the season, visitors' can experience at first-hand how coffee trees are planted and pruned, coffee berries are harvested and fermented, or how the beans are dried and sorted. A comprehensive introduction given in the visitors' Centre, followed by a walk through the fields with one of our coffee guides will provide you with great insights into the farm history, growing processes and culture. After a 2hrs trip around, you have the opportunity to relax with a cup of coffee on the beautiful colonial-style farm house located at the center of the farm. Deckchairs in a subtropical garden right in front of the veranda allow for optimal enjoyment . Overnight- Kudu Lodge- Karatu www.kudulodge.com Full Board (Dinner, Breakfast, Lunch)
Day 12: Relaxations/ Kudu Lodge
This day will be used for relaxations at the lodge and enjoying our fantastic swimming pool or the many flowers and shrubs on our beautiful gardens. Also, you can choose to use this day for town tour, interacting with the local people as well as visiting local market around Karatu town with your guide. Overnight- Kudu Lodge- Karatu www.kudulodge.com Full Board (Dinner, Breakfast, Lunch)
Day 13: Visit Maasai Boma- Mto wa Mbu
Mto wa Mbu town is situated between Lake Manyara and Tarangire National Parks in northern Tanzania,just at the foot of Rift Valley. Located on the way to Ngorongoro and Serengeti,it is an ideal resting place for most safari travelers. Visit a Maasai boma and see the lifestyle of this legendary tribe up-close. Along with a guided tour of the boma and an introduction to the local Maasai population, tribesmen will offer to paint traditional Maasai tattoos for visitors and even let them milk their prized cows. Get an inside look at the homes and exquisite crafts of Mto wa Mbu many tribes. Visitors will get a chance to meet locals and learn about banana beer, Makonde woodcarvings, and the tribal painting techniques; the village provides a great introduction to everyday life in Africa. Late afternoon returns to the lodge. Overnight- Kudu Lodge- Karatu www.kudulodge.com Full Board (Dinner, Breakfast, Lunch)
Day 14: Departure
This is the last day of your African Wildlife and Cultural odyssey safari. Breakfast at the Lodge then transfer to Kilimanjaro Airport. Travel back home.
WHATS INCLUDED?
All Accommodation as per the itinerary. Transport and transfers 4 x 4 safari vehicle with pop up roof for game viewing. professional English speaking driver guide. ( or other languages as well ) All game drives activities as per the itinerary. Daily Meals (Breakfast, Lunch and Dinner) All Park entrance fees. Bottle drinking water daily. All Government taxes and V.A.T
WHATS EXCLUDED?
All flights International and domestic. Travel insurance. All items of personal care. All optional activities. Tips for driver guides and Hotels. Alcoholic drinks and non alcoholic drinks. Visa.